Friday Night November 4th, an international representation of Muse authors gathered for a welcome aboard to celebrate the first year in business of this exciting new company.
Publisher, Lea Schizas and Promotions Goddess, Litsa Kamateros set a splendid scene in a Montreal Greek restaurant. Every author had the opportunity to speak in personal introduction. Thank you gifts were given to Lea and Litsa as well as received from these two wonderful 'boss ladies' to each author.
Nancy Bell awards gifts to Lea and Litsa
A fun competition of dress up was played.
Karen Cote dresses Heather Haven
Sandra Clark dressed by Madeleine McLaughlin
Our colleague, Karen McGrath was remembered.
And authors from around Canada and the United states got to network with each other—up until now, faces only known from the internet.


(Oh yeah...and there were (real) cheesecakes...lol)




Saturday Afternoon a Mega book signing was held at Zellers Super Store in Pointe Claire. Each and every author was thrilled to be able to meet and greet the public. There shining faces and pride in their work showed…
Charles Mossop                      Christine London
Barbara Ehrenthreu
Barbara Ehrenthreu  If I Could Be Like Jennifer Taylor  Carolyn Samuels' freshman year becomes a series of lies to cover Jennifer Taylor's terrible secret in return for popularity.
Charles Mossop  The Devil At My Heels  A modern murder mystery with a historical twist.
Kevin Craig  Summer On Fire  Summer…fire, bodies, murder, enemies and lies. Is it too much for three friends to handle? The race is on…
Grace De Luca  Betwixt and Between  Suspended between two worlds, teenager Michael must set out on a Quest in order to return to Earth. The only way home is through a fantasy land of adventure, suspense, and incredible experiences-- the world of Betwixt and Between.
Heather Haven  A Wedding To Die For  PI Lee Alvarez knows better than anyone when Cupid's wings start flapping, love and murder can't be far behind.
Arlene Webb  Ashes  Lyle holds his murdered brother and wants his life to end too. When the unbelievable happens, he'll sacrifice anything to avoid the final stage of grief, and comes to learn life is just beginning.
Madeleine McLaughlin  The Mountain City Bronzes  How far will a community go to protect the safety of their children when they start to disappear?
Karen Cote  Erotic Deception  Told she'd never have children…abracadabra, she's pregnant. Would the man she loved disappear when he found out?  (Adult Content)
H.M. Prevost  Desert Fire  After Nick Chevalier stumbles across a plane crash in the middle of the desert, the dying pilot slips him military secrets that a ruthless terrorist is determined to possess.
Richard Burns  Sweet Chocolate's First Taste  A young white soldier's first encounter with a woman, a black woman in the racially turbulent southern US in 1979...a hooker?  (Adult Content)
Sarah Durham (left), and daughter (right)  The Powers A woman with a wounded past is awakened by an ancient warrior angel to fulfill a destiny meted ages before man...
and Lycan Moon A cursed seventeenth century man's life is turned upside down when a Seattle columnist comes to town in search of a legendary werewolf 
Nancy Marie Bell  Laurel's Miracle  YA FANTASY Laurel isn't out to save the world, just her mom from cancer.
Editor Natisha La Pierre
   Lea Schizas Autism Epidemic Shaking the System  A helpful guide to sensitize people on autism.
The Halloween Dino Trip  Jillian Waylan planned the perfect Halloween party until things go a bit...wacky?
Litsa Kamateros  Autism Epidemic Shaking the System  A helpful guide to sensitize people on autism.
Joanne Elder  Spectra
What happens when the fragile line between genius and insanity is drawn with the blood of an entire species?
Christina Schizas  Ahtabat: Man's Extinction  What if you were told you had to abandon your home, your friends, your loved ones,   your career,  your money, your dreams, and most importantly, your life? And not only  temporarily but indefinitely? 
Lisa Forget  (left)
Deathly Quiet  Moira Murphy encounters a terrifying stranger who forces a new existence upon her - one that is deathly and quiet.
Christine London  (right)   Shadows Steal The Light  It's love at first sight for rock star Colin Dunlow when he runs into sultry jazz singer, Jenna Lindstrom, with a few complications. The woman of his dreams hates rockers and there's someone who wants him dead. (Adult Content)
Sandra  "S. J." Clarke   Mind Over Matter    A mother faces her worst nightmare when she discovers her missing daughter is scheduled to die in mere days.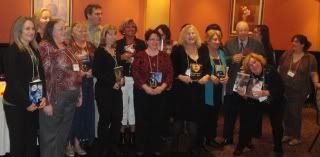 Bonella made an appearance.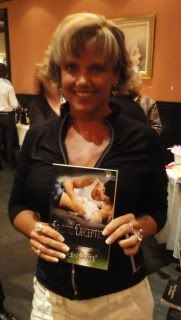 Our living avatar, Karen Cote